---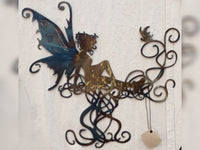 Introducing the Woodland Fairy Metal Wall Art, a captivating and enchanting piece that will add a touch of magic to any space. Intricately crafted from 16 gauge top-quality American steel, this piece is meticulously cut to showcase exquisite details and definitions.
Our skilled artisans hand-sand each piece, ensuring a smooth finish that highlights the magnificence of the artwork. Using our unique torching technique, the Woodland Fairy Metal Wall Art is adorned with stunning bronze and blue hues, creating a mesmerizing color combination. To preserve the art's charm and protect it from the elements, we seal it with a vibrant clear powder coat.
Measuring 12 inches in height by 12 inches in width, this metal wall art features a highly detailed image of a fairy gracefully perched upon intricate vines. The fairy's delicate wings and flowing hair are brought to life with precision and grace, captivating the viewer with its ethereal beauty.
Please note that due to the handcrafted nature of each piece, no two Woodland Fairy Metal Wall Art items are exactly alike. While every effort is made to ensure similarity, subtle variations occur, making each piece unique and one-of-a-kind. Embrace the individuality of your artwork, knowing that you possess an exclusive creation that stands apart from any other.
Add a touch of whimsy and elegance to your home with the Woodland Fairy Metal Wall Art, an exquisite masterpiece that will transport you to a mystical realm each time you gaze upon it.