---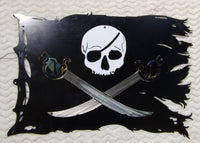 Introducing our mesmerizing Jolly Roger Pirate Flag , the perfect addition to any nautical-themed space. This exceptional piece is meticulously crafted from 16 gauge American Steel, ensuring both durability and exquisite craftsmanship.
The Jolly Roger Pirate Flag features a multi-layered design that brings the fierce essence of the high seas to life. The skull motif is expertly powder coated in a striking white finish, symbolizing the fearlessness and indomitable spirit of pirates.
To add a dynamic touch, the swords on the flag are meticulously colored using our unique burning technique. This brings an element of visual depth and authenticity to the piece, perfectly capturing the ruggedness and adventure of pirate life.
To enhance its longevity and protect its captivating features, the entire artwork is encased in a solid clear powder coat. This protective layer not only safeguards the artwork from scratches and wear, but also provides a sleek and polished finish.
Measuring a bold 18 inches wide by 12 inches tall, the Jolly Roger Pirate Flag commands attention in any space it adorns. Whether displayed in a living room, man cave, or pirate-themed bedroom, its presence is sure to inspire excitement and adventure.
Each Jolly Roger Pirate Flag  is meticulously handcrafted, ensuring that each piece retains its unique character. From the precise cutting of the steel to the careful application of color, our artisans pour their expertise into every individual artwork.
Embrace the swashbuckling spirit and timeless allure of piracy with our Jolly Roger Pirate Flag Metal Wall Art. It pays homage to the daring voyages and captivating legends of the high seas, making it a cherished treasure for any history enthusiast or lover of all things nautical. Prepare to set sail on a thrilling journey with this remarkable piece of metal art.