---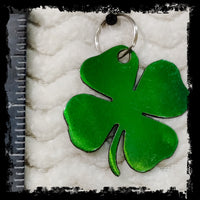 Introducing our charming Four Leaf Clover Metal Keychain, a symbol of luck and good fortune that you can carry with you wherever you go. Crafted with precision from durable 16 gauge steel, this keychain is designed to withstand the test of time.
  Measuring approximately 2 inches in height and perfectly cut into the shape of a four-leaf clover, this keychain is a delightful and eye-catching accessory. Its smooth surface, achieved through meticulous sanding, ensures a tactile and comfortable feel every time you hold it.
  To provide long-lasting protection and preserve its captivating appearance, the keychain is carefully coated with a powder finish. This protective layer acts as a barrier against potential damage from scratches, rust, or fading, ensuring that your keychain maintains its vibrant colors and shine for years to come.
  Selecting a keychain that reflects your personal style has never been easier. Our Four Leaf Clover Metal Keychain is available in a variety of captivating colors, allowing you to choose the one that best suits your preferences or coordinates with your belongings. Whether you opt for a classic silver, a sleek black, a vibrant red, or a radiant gold, this keychain is sure to make a statement.
  Complete with a convenient 1-inch split key ring, this keychain easily accommodates your keys for effortless organization. Attach it to your car keys, house keys, or even your backpack, and let the luck of the four-leaf clover accompany you on your daily adventures.
  Add a touch of luck and style to your life with our exquisite Four Leaf Clover Metal Keychain. Crafted from durable steel, featuring a smooth finish, powder-coated for maximum protection, and available in various colors, it is the perfect accessory for anyone in search of a little extra fortune. Order yours today and carry the essence of luck wherever you may roam.