---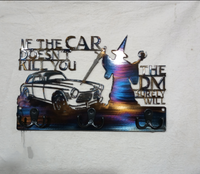 Introducing our highly captivating and daring If the card doesn't kill you the DM surely will keychain hanger, designed in reverence of the legendary Dungeons & Dragons tabletop game. With its sizeable dimensions, measuring approximately 10 inches wide and 8 inches tall, this sturdy keychain rack is crafted from unbeatable 16 gauge American-made Steel.
Every inch of our keychain hanger has been meticulously hand-sanded to accentuate the intricate textures and details that pay homage to the whimsical world of Dungeons & Dragons. To add a touch of enchantment, we employ our exclusive torching technique, infusing each piece with vibrant colors that embody the essence of this fantastical realm. The final touch is encasing the hanger in a durable and brilliant clear powder coat, ensuring its longevity and allure.
For your convenience, the keychain rack boasts three double-sided hooks, providing ample space to hang multiple sets of keys. Whether you possess the keys to forgotten caverns, ancient citadels, or bustling taverns, our keychain hanger will proudly display your prized collection.
Due to the meticulous craftsmanship involved, each keychain hanger is uniquely handmade, making it a truly one-of-a-kind item. While no two pieces will be identical, we guarantee that they will share a remarkable resemblance, ensuring the utmost quality and attention to detail.
Elevate your love for Dungeons & Dragons with our If the card doesn't kill you the DM surely will keychain hanger. It serves as a remarkable statement piece and functional accessory that offers a glimpse into the alluring world of tabletop adventures. Whether you adorn it in your home, office, or gaming den, our keychain hanger is bound to ignite the imagination and spark conversations among fellow adventurers.