---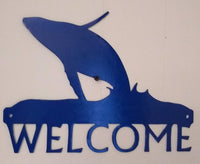 Introducing our stunning Humpback Whale Welcome Sign, the perfect way to greet guests with a touch of coastal charm. This extraordinary metal art piece features a graceful humpback whale design, expertly crafted by cutting through high-quality 16 gauge steel.
The Humpback Whale Welcome Sign is more than just a decorative piece; it serves as a warm invitation to all who enter your home. Measuring a compact 12 inches by 12 inches, this versatile sign fits seamlessly into any space, whether it's welcoming visitors at the front door or adorning a cozy coastal corner of your home.
To capture the essence of the ocean, we have carefully chosen a vibrant blue powder coat finish for this exquisite artwork. The blue hue not only complements the design beautifully but also creates a soothing and serene atmosphere wherever it is displayed. However, if you prefer a different color to match your unique aesthetic, we happily accept custom requests to create a personalized piece just for you.
Built to withstand the elements, this whale welcome sign is not only suitable for indoor use but also perfect for outdoor spaces such as front porches, gardens, or beach houses. The durable steel construction ensures its longevity, allowing you to enjoy its beauty for years to come.
Whether you're a lover of marine life or simply appreciate the elegance of the humpback whale, our Humpback Whale Welcome Sign is an exquisite addition to any space. Its inviting design and coastal charm make it a delightful gift for marine enthusiasts, nature lovers, or anyone seeking a touch of tranquility in their home decor.
Embrace the beauty of the ocean and make a warm statement with our Humpback Whale Welcome Sign. Crafted with care and attention to detail, it serves as a charming symbol of hospitality, seamlessly blending artistry and functionality in one exceptional piece. Hang it proudly and embrace the allure of the ocean right at your doorstep.