---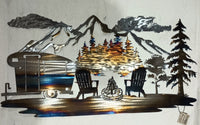 Introducing our remarkable "Camping in the Mountains" Metal Wall Art piece, a true testament to the beauty and serenity of nature. Crafted from premium 16 gauge steel, this exquisite piece is the perfect addition to any space, bringing the essence of a cozy campfire in the mountains right into your home.
Our skilled artisans take great care in hand-sanding each panel, skillfully enhancing the contrasting textures and intricate details of the artwork. The result is a mesmerizing display that captures the ruggedness of the mountains and the vibrancy of a flickering fire.
To ensure lasting beauty and protection, each piece is carefully encased in a vibrant clear powder coat. This technique not only adds a stunning finish to the artwork but also shields it from the elements, making it suitable for both indoor and outdoor display. Breathe life into your living room, den, or even your patio and let the captivating beauty of this artwork transport you to the tranquility of the mountainside.
Measuring an impressive 24 inches in width by 12 inches in height, this Metal Wall Art instantly becomes the focal point of any room. Its versatile size allows for easy placement in various settings, while its unique handmade nature ensures that no two pieces are exactly alike. You can truly revel in owning a one-of-a-kind masterpiece that showcases the craftsmanship and individuality of each artist's touch.
Embrace the soothing atmosphere of camping in the mountains with our "Camping in the Mountains" Metal Wall Art. Immerse yourself in the serene beauty of nature, where the crackling fire and majestic landscapes intertwine. Elevate your decor with this exceptional artwork and let its presence bring warmth, tranquility, and a sense of adventure to your space.