---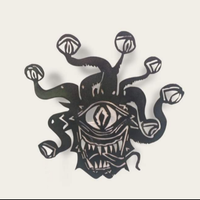 Introducing our Beholder D&D Metal Wall Art, designed to enhance the ambiance of any Dungeons & Dragons enthusiast's personal space. Inspired by the captivating world of this classic tabletop game, our Beholder Metal Wall Art showcases one of D&D's most iconic monsters with remarkable precision.
Crafted from durable 16-gauge steel, this masterpiece is meticulously cut to perfection, capturing every intricate detail of the fearsome Beholder. The surface is expertly sanded to a smooth finish, ensuring a flawless appearance that truly brings this legendary creature to life.
To ensure longevity and preserve its stunning aesthetic, our Beholder Metal Wall Art is encased in a heavy black powder coat. This protective layer not only enhances its visual appeal but also provides scratch resistance, ensuring that your artwork remains pristine for years to come. Additionally, the powder coat makes this piece rust-resistant, perfect for both indoor and outdoor spaces.
Measuring at approximately 12 inches by 12 inches, the Beholder Metal Wall Art is compact yet impactful. Its size allows for versatile placement, whether as a centerpiece in a D&D-themed room or as an eye-catching addition to an existing art collection.
Experience the magic and nostalgia of the Dungeons & Dragons universe with our Beholder D&D Metal Wall Art. A must-have for avid gamers and collectors, this extraordinary piece is sure to captivate anyone who appreciates the beauty and mystique of this beloved tabletop game. Elevate your living space, embrace your love for D&D, and make a statement with this stunning Beholder Metal Wall Art today!