---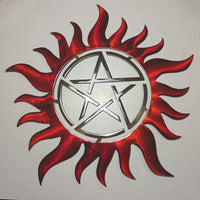 Introducing our Supernaturals-inspired Anti-Position Ward Metal Wall Art, a captivating piece that combines supernatural aesthetics with exceptional craftsmanship. Crafted from durable 16 gauge American Steel, this artwork brings an element of mystery and protection to your space.
Designed to reflect the essence of the TV series Supernaturals, our skilled artisans painstakingly cut and sculpt every detail by hand, ensuring a visually striking portrayal of an anti-possession ward. This intricate design is carefully sanded to bring out its definition and sharpen its intricate features, resulting in a stunning piece of art.
To amplify the allure of the ward, we utilize a unique coloring process. The combination of red and Ash Gray translucent anodizing imbues the artwork with an ethereal, otherworldly aura. These mesmerizing hues add depth and intrigue to the piece, capturing the essence of supernatural forces.
For long-lasting protection and visual enhancement, we seal the artwork with a vibrant clear powder coat. Not only does this coat preserve the stunning colors, but it also adds a glossy finish that enhances the overall appearance, making the artwork truly stand out.
Measuring at a versatile 12 inches by 12 inches, this wall art is perfect to display in a variety of settings. Hang it in your living room, bedroom, or even your office to add a touch of supernatural charm. If you desire a different size, we welcome you to contact us, as we can accommodate your specific preferences.
Please note that due to the handmade nature of our artwork, each Anti-Position Ward Metal Wall Art piece is unique. This means that no two pieces will look identical, ensuring you own an exclusive and one-of-a-kind piece.
Embrace the supernatural world of Supernaturals with our Anti-Position Ward Metal Wall Art. Let this enchanting and captivating piece become a formidable symbol of protection and an intriguing conversation starter. Protect your space from malevolent forces and add an element of mystery to your decor