---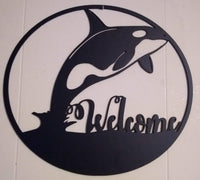 Welcome your guests with the majestic beauty of the ocean adorned on your doorstep with our Orca Metal Welcome Sign. Delicately crafted from sturdy 16-gauge American steel, this exquisite piece is designed to make a lasting first impression.
Measuring 12 inches by 12 inches, our Orca Metal Welcome Sign is the perfect size to be displayed prominently at your entrance, instantly adding a touch of elegance and allure to your home or business. Its sleek black powder coated finish not only enhances the sign's durability but also gives it a timeless appeal that effortlessly complements any décor.
Created with meticulous attention to detail, our Orca Metal Welcome Sign showcases the grace and power of these magnificent creatures. The sanded finish ensures a smooth texture, making the sign even more captivating to touch and behold.
Not only does this welcome sign exude a sense of coastal charm, but it also serves as a warm and inviting gesture to all who enter your space. Let the presence of the mighty orca symbolize strength, protection, and harmony as it welcomes you and your guests with open arms.
Whether you are looking to enhance the entrance of your home, office, or even a vacation getaway, our Orca Metal Welcome Sign offers a striking statement piece that embraces the spirit of the sea. It is also a thoughtful gift for marine life enthusiasts, ocean lovers, or anyone who appreciates the beauty of these incredible creature