---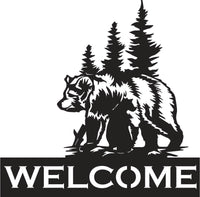 Introducing our Bear Welcome Sign, a stunning piece that combines rustic charm with impeccable craftsmanship. Crafted from 16 gauge American Steel, this sign is built to stand the test of time, ensuring years of beauty and durability.
Every aspect of this sign is meticulously crafted by hand. Each cut is precise, and the surface is meticulously sanded to create a flawless finish. The attention to detail in the craftsmanship is evident, resulting in a truly remarkable piece.
The black powder coat finish adds a touch of elegance to the sign, while also serving as a protective sealant. This sealant ensures that the sign is resilient to wear and tear, making it suitable for both indoor and outdoor use.
Measuring at a perfect 12" x 12", this sign is versatile and can be displayed in a variety of spaces. Hang it on your front door, porch, or in your living room to create a warm and welcoming ambiance.
The distinctive bear design adds a touch of wilderness to your home decor. With its intricate details and lifelike portrayal, this design truly captures the majestic beauty of the bear. Whether you live in the mountains, by the lake, or in the city, this sign will effortlessly enhance the atmosphere of your space.