---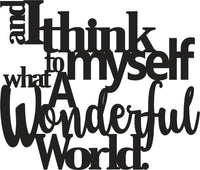 Experience the enchantment of "I Think to Myself What a Wonderful World" with our captivating Metal Wall Art design. Crafted with utmost precision and love, this exquisite piece will bring the soul-stirring lyrics of Louis Armstrong's iconic song to life while adding a touch of elegance to your space.
Created from premium American 16 gauge steel, our Metal Wall Art ensures exceptional quality and durability. Each piece is meticulously cut to perfection, capturing the intricate details of the design. To enhance its longevity and allure, it is powder coated in a sleek and timeless black finish. However, if you desire a different hue to harmonize with your decor, custom color options are also available upon request.
Measuring an impressive 24 inches by 20 inches, this stunning design will become the focal point of any room. It effortlessly captivates attention, bringing a sense of wonder and appreciation for the beauty that surrounds us.
Whether you're looking to create a harmonious ambiance in your living room, bedroom, or office space, this Metal Wall Art design is the perfect choice. The inspiring message encapsulated in the lyrics serves as a daily reminder to pause, reflect, and find joy in the little things that make our world truly wonderful.
Elevate your interior with this enchanting design or gift it to someone special who appreciates the simple wonders of life. With its impeccable craftsmanship and profound sentiment, our "I Think to Myself What a Wonderful World" Metal Wall Art will infuse your space with positivity and an enduring appreciation of the beauty that surrounds us.